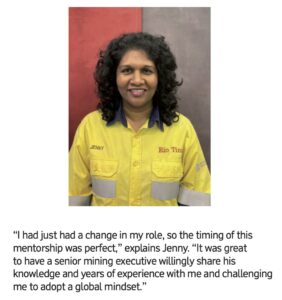 Jenny Naidoo,
Manager Commercial Warehousing, Fuel and Facilities
with Rio Tinto in South Africa is one of our 53 mentees of
IWRMP
2020.
The IWRMP aims to provide women in the resource industry with a much sought-after opportunity to be mentored by more experienced, successful senior members of the industry, both male and female professionals who are in a position to empower and promote women professionally and personally.
This cross-company mentoring programme is international, with participants (mentees and mentors) hailing from every continent and a minimum of 15 countries represented each year. With 53 mentees chosen for the 2020 Programme, Jenny was excited to be one of 10 candidates sponsored by Rio Tinto. The programme was set to launch in April this year in Santiago, Chile and finish in Melbourne in October. However, the plan had to quickly change with the onset of the Covid-19 pandemic, and the programme became an online learning experience. Engagement between Mentors and mentees is a key part of the IWRMP and is very structured throughout the programme.
"I had just had a change in my role, so the timing of this mentorship was perfect," explains Jenny. "It was great to have a senior mining executive willingly share his knowledge and years of experience with me and challenging me to adopt a global mindset."
Her mentor also provided Jenny with career guidance and support. It is not just about a connection with the mentor that makes this programme special though. The programme also provides an opportunity to participants to expand their personal career networks. "What better time to have a group of 53 women around the world that are in the same situation, encouraging each other and sharing their experiences," adds Jenny.
The IWRMP is just one of many programmes that Rio Tinto sponsors to help develop and grow their female employees in the mining industry. On a local front, the RBM Accelerated Development Programme for Women – in which Jenny is a participant – kicked off in June 2020. Jenny encourages RBM women to make the best use of the opportunities that are available. She concludes.