IWiM celebrated with the global mining industry
On 15 June every year the mining industry celebrates the women who have been, are and will be part of the sector. The International Day of Women in Mining 2023 (IDWIM 2023) reinforces our belief that "Equity in Mining is Everyone's Responsibility" by showcasing how gender inclusion can be one of the greatest assets the industry has to ensure its long-term sustainability.
Thank you for being part of the 2023 International Day of Women in Mining celebration!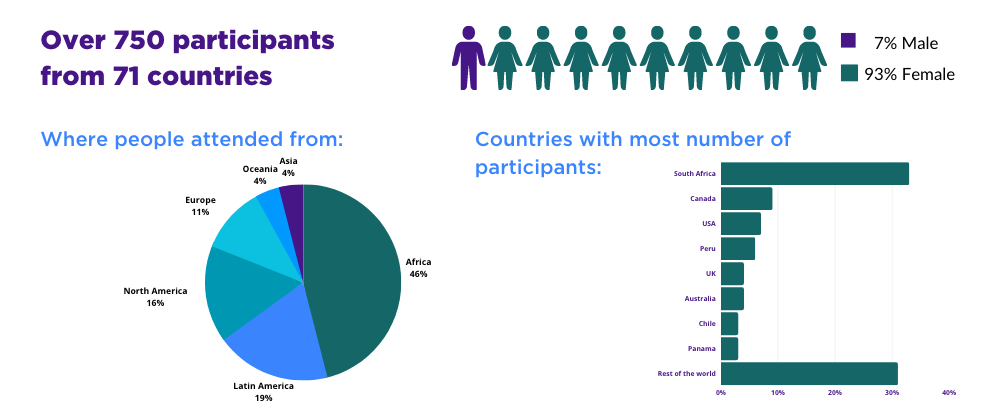 Read the full report:

Watch IDWIM 2023
2023 International Day of Women in Mining
2023 Campaign Ambassador

"I'm an advocate for inclusion and diversity, with a keen interest in sustainably changing the gender balance within the industry to create equal opportunities for all"
Mpumi has over 20 years of hands-on operational and leadership experience in mining. She began her career at De Beers as a chemical engineering bursar before becoming the first female General Manager at De Beers and then succeeded to the role of Deputy CEO of De Beers Consolidated Mines in 2017. Mpumi completed her tenure at De Beers as the Managing Director of the Group's Managed Operations business in South Africa and Canada. After over two decades of working her way through the ranks at De Beers, she was appointed as CEO of Kumba Iron Ore in January 2022.
Mpumi is personally committed to accelerating the involvement of women and youth in the industry by investing in women at every level, driving greater representation across Kumba; investing in female micro-entrepeneurs in communities; and encouraging young women to study STEM subjects.
2023 Keynote Speakers
Each speaker's presentation made IDWIM special and specifically relevant for the industry today. Laura Tyler, outgoing Ambassador, welcomed everyone to IDWIM; Ben Chalmers shared the new DEI standards from the Towards Sustainable Mining initiative; Ege Tekinbas presented the findings of the "Women and the Mine of the Future" report; Melanie Cooper shared her insights from the "Rio Report" a year later; María Angela Capello introduced the Women in Resources Management working group; and Sally Strohmayr, Eduardo Magalhaes and Lawrenda Adsomani discussed about "Inclusive Workplace Design". Watch each of their presentations individually.






Launch of the new PPE Directory
The mining industry has made great advances in gender inclusion, and more women are working at operations. Women have different requirements when it comes to working in remote and challenging heavy industry environments, and if these needs are not adequately met, the risk of losing their talents becomes significant.
PPE designed for the female body exists, and there are many suppliers who are specialising and including equipment and clothing lines made specifically for women.
Visit internationalwim.org/ppedirectory/
IDWIM 2023 Special Showcases
IWiM's Photo Campaign gathered 127 images for IDWIM this year from women worldwide with the aim of having a visible record of women in mining. We thank each of them for making the effort to submit their images.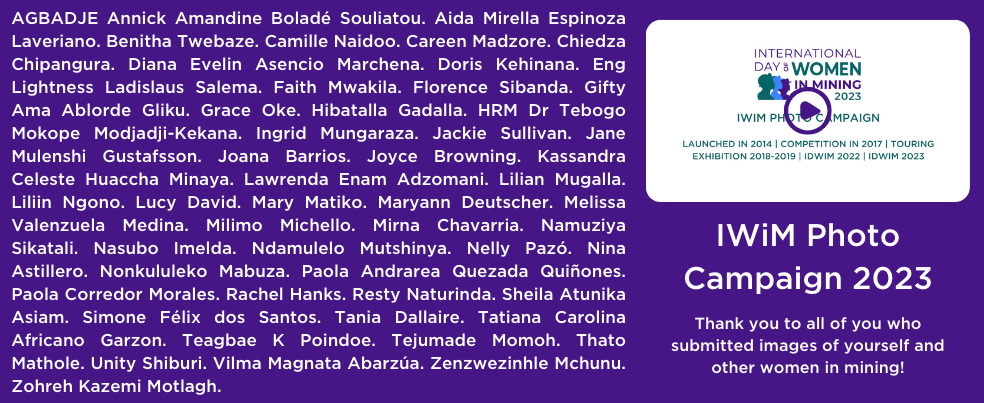 IDWIM again highlighted the work carried out by women in mining (WIM) organisations worldwide. We thank all the organisations who submitted a showcase of their work.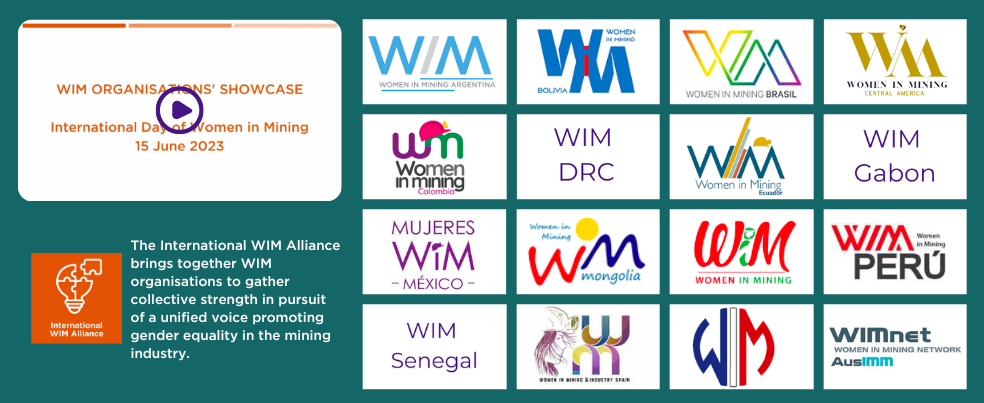 Yearly during IDWIM, the industry commemorates women who are no longer with us, and who left a lasting legacy in the industry.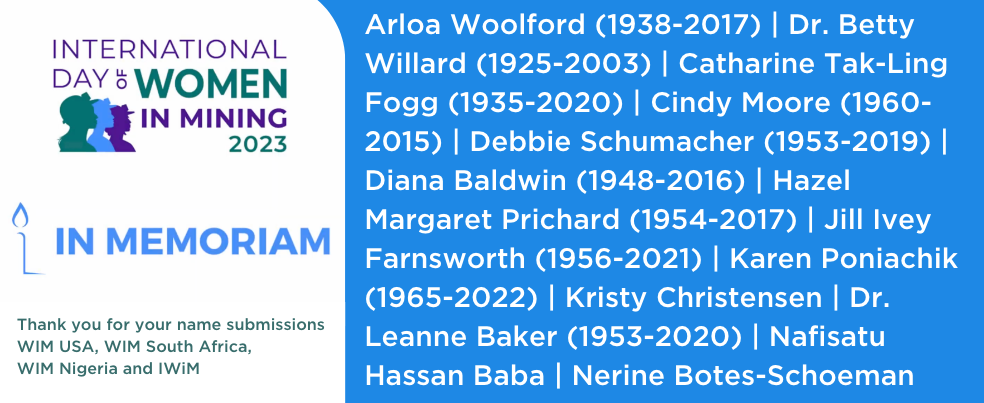 Subscribe to our newsletter