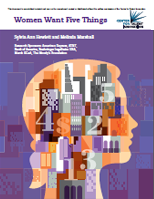 NEW YORK, December 9, 2014 –Women at the peak of their careers perceive that the burdens of a powerful position outweigh the benefits (60 percent of women in the U.S., 65 percent in the U.K. and 49 percent in Germany), according to a new study released today by the Center for Talent Innovation (CTI). Yet, findings from the study
show that, between the ages of 35 and 50, women in the U.S., U.K. and Germany who have power in their current roles are more likely to get what they want from their careers than women without power in their current roles expect. The report, Women Want Five Things, explores the disconnect between women's expectations of a powerful job and the realities of one.
This report examines the flywheels of women's fierce ambition: What drives them, what inspires them to remain fully engaged and on track for leadership roles. We find that across the U.S., U.K., and Germany, well-qualified women have a five-point value proposition. They want the ability to flourish, excel, reach for meaning and purpose, be empowered and empower others, and earn well.
Women start their careers hungry to attain a powerful job, but lose their appetite as they age. Even for women without children, and those who are breadwinners, power loses its luster for the 35-to-50 age group. Women do not aspire for a powerful position because they perceive the burdens of leadership outweighing the benefits.  Yet power, our data reveals, is what allows women to fulfill their five-point value proposition than women without power in their current roles expect. The report explores women's misunderstanding of power and the benefits it can bring. (12/9/2014, Report – 64 pages)
Link to summary of findings