Kym Clark had always wanted to be involved in the fashion industry — but starting her own small business making high-visibility workwear for women who work in mining, transport and construction was a left-field move.
Several years ago while working as a management accountant for mining conglomerate Anglo America in Brisbane, Clark watched as her heavily pregnant boss, Steph, sat uncomfortably in a meeting at a mining site wearing a singlet and unable to do up her safety work shirt.
And then she had a lightbulb moment.
"Something deep inside me said I wanted to be in the fashion industry but I just didn't know how," she told The Huffington Post Australia.
"When I saw Steph I thought that for an industry that we are trying to get more women into and create that inclusive environment, having a work uniform that wasn't suited to everybody just didn't sit right."
Clark, who had already completed a sewing course, began to plan her startup, She's Empowered. She designed work pants, high-vis work shirts and, arguably the jewel in her workwear crown, the Baby Bump maternity top, and had a pattern maker draw up the designs.
Although designing the range meant it took longer for the business to get up and running, Clark said it was a natural step.
"I had all the insider information about what women wanted to wear onsite and what was in accordance with Australian standards, so I knew what the industry needed," she said.
Eventually she scaled back her $130,000 a year job to part time to grow She's Empowered, sourcing materials and an overseas manufacturer. Then she hit her own bump — the manufacturing deal fell through and she had that process all over again.
"It was at that point I realised I thought I had gone too far to turn around but that would have been my perfect out, but I didn't really see it like that, so I just kept going," she said.
Once the new manufacturing deal was set, Clark set about cold calling mining firms to sell her wares. Some firms provide uniforms while others require employees to source their own, and Clark now has a mix of both kinds of orders.
"I think I was lucky as I was in the industry," she said. "Because it was a need from the site basis and I had witnessed it first-hand, a lot of people wanted to talk. But in saying that, a lot of people hung up in my face.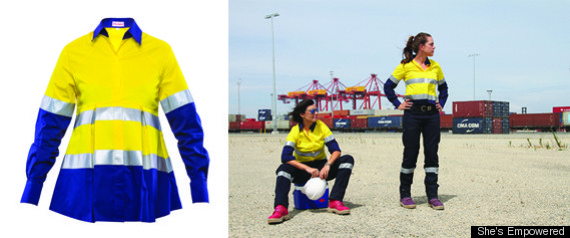 The Baby Bump shirt has become the crown jewel in Clark's workwear line.
"But there are companies that have recognised the importance of providing their workforce and particularly their females with workwear that they want to wear, because when you feel good in what you wear it comes out in your work, your confidence, you have pride in yourself and everything you do."
As the name suggests, She's Empowered is more than just a firm that makes fluoro clothes for women in industry. According to the Gender Equality Report, mining is most male-dominated industry in Australia with just 16.1 percent of all employees being women and an industry-wide gender pay gap of 17.6 percent in favour of men.
Clark feels it's also about making mining and other male-dominated industries more attractive for women — and diversity just makes good business sense.
"There is a push to make the more environment more inclusive for a diverse range of people, not only gender but it is one of the factors," she said. "The industry has made improvements but there is still quite a long way to go.
"When we get more women into business and we create that more inclusive environment it improves the business's bottom line, so I think it is a win-win for everybody."
Indeed, her clothes are named after inspirational women. The Marjorie & Judy shirts are named after Marjorie Apthorpe and Judy Garstone, who became the first women to work on an offshore petroleum drilling rig in 1981.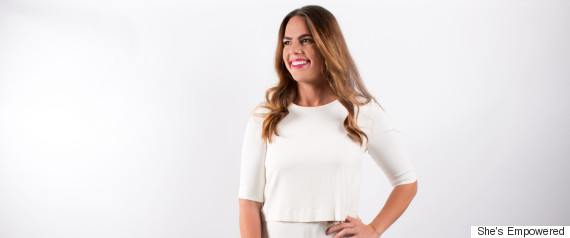 Kym Clark has combined her love of industry and fashion with She's Empowered.
The Earhart high-vis shirt is named after American aviation pioneer Amelia Earhart and the Alice cargo pants bear the namesake of motoring pioneer Alice Anderson, who began the all-female Alice Anderson Motor Service Company in 1919 in Melbourne.
Clark has now made history of her own during International Women's Day as one of 20 women inducted into the 2016 Hall of Fame of networking organisation HerBusiness, which has recently rebranded from the Australian Businesswomen's Network.
The inductees range in fields as diverse as mining, fashion and dog grooming to travel and wine.
The Hall of Fame was begun in 1998 to share the great stories of female entrepreneurs in Australia and has profiled more than 200 women.
"I was shocked to say the least but I am exceptionally honoured that I have been included," she said. "There are some massive businesswomen that are on that list and I am stoked that my name is amongst them."