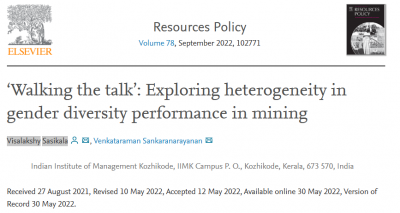 Report year:2022
Report author: Visalakshy Sasikala
Organisation: Indian Institute of Management Kozhikode, IIMK Campus
Although gender diversity has been an increasingly important criterion for investors screening for environmental, social and governance metrics, it has long been a challenge for the mining sector, given its strong legacy and reverence for masculine identity. Mining has consistently continued to significantly lag other industries and cutting across all levels of employment. Moreover, there is reported evidence of notable variations amongst different regions in the matter of gender diversity adoption. We investigate these issues through a qualitative empirical study of self-reported narratives of the 24 largest mining companies spread across eight regions.