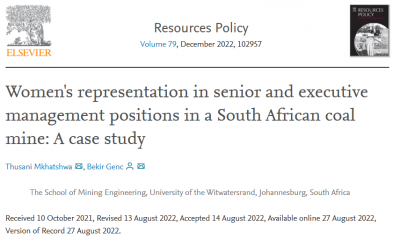 Report year:2022
Report author: Thusani Mkhatshwa, Bekir Genc
Organisation: The School of Mining Engineering, University of the Witwatersrand
With the policies and laws in place in South Africa, it is desirable to have more women representation in senior and executive management level where the government leaders and mine management are encouraged to aim for a 50:50 representation of all genders. It is crucial to identify the primary factors that impede women from becoming senior or executive managers in the mining industry and how those challenges could be addressed. More than 20 years into democracy, it is important to understand why men still outnumber women in senior and executive management positions in the mining industry. Mine A was used as a case study where in-depth interviews were conducted with 20 participants from core mining, middle management and senior mining positions using a set of questionnaires. It was found that women experience challenges at home and at work that impede them from advancing in their careers to senior and executive management roles. Those challenges range from toxic masculinity, prejudice, socio economic disadvantages and having to have multiple gender identities at work and in the community. The study identified that even though there are policies in place, those policies are insufficient as they only prescribe the end state and not the inclusive process. They also do not stipulate the required number of women per management level but only focuses on women in mining targets. On this basis, several recommendations were presented.