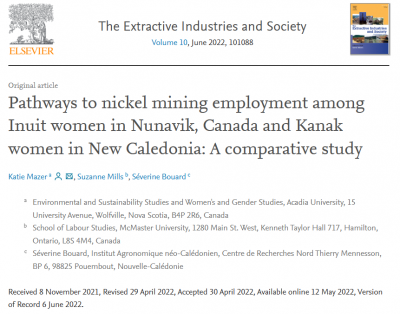 Report year:2022
Report author: Katie Mazera (a), Suzanne Mills (b), Séverine Bouard (c)
Organisation: (a) Environmental and Sustainability Studies and Women's and Gender Studies, Acadia University; (b) School of Labour Studies, McMaster University; (c) Institut Agronomique néo-Calédonien, Centre de Recherches Nord Thierry Mennesson
This paper compares Inuit and Kanak women's participation in nickel mining employment in Canada and New Caledonia through a focused examination of three nickel mines: two in Nunavik, Quebec, Canada and one in the Northern Province of New Caledonia. Since the recent construction of two new nickel refineries, New Caledonia has experienced a dramatic feminization of its mining workforce across traditional mining employment and service-related employment. In Canada, meanwhile, despite targeted efforts by industry and community organizations to facilitate Inuit women's entry into nickel mining, women's participation in mining remains relatively low and stagnant. This paper first presents a comparison of employment data at all three mines to illustrate the dramatic divergences in demographic composition of the workforces. Second, drawing on interviews with key informants and historical context, we explore key factors that explain this divergence in Indigenous women's employment.