UNITED KINGDOM (22 November 2021) International Women in Mining (IWiM), a leading not-for-profit global organisation pursuing gender equality and promoting the voices of women in mining, today released its inaugural Impact Report detailing the organisation's achievements and the wider societal impact of its work.
The 2021 Impact Report highlights the organisation's progress and achievements across three key pillars: as an Industry Change Agent, WIM Champion and Diversity Trend Setter. The report also highlights the organisation's timeline of growth since it was established in 2007 and includes information on the value added by its partnerships and the relationships built with various stakeholders worldwide.
IWiM has connected with over 12,000+ members worldwide and has collaborated with over 70 Women in Mining (WIM) organisations on all continents. IWiM has also cultivated an international network of leading companies, organisations, and individuals who share their vision for the mining sector. This networking has always been conducted with the aim of inspiring men and women to be advocates, change-makers, and leaders in their businesses and communities.
The 2021 Impact Report highlights the following achievements:
In March 2021, IWiM convened an inaugural Global WIM Summit of 225 WIM organisation leaders
IWiM is the Secretariat of the International WIM Alliance open to 100+ WIM organisations globally
The organisation is also the convener of 15 leading international organisations in quarterly WIM Global Exchange
In 4 years of its annual global cross-company mentoring programme, IWRMP, IWiM has facilitated the growth of 200 mentees from 30+ countries including 56 scholars
IWiM has actively participated in policy initiatives, peer reviews, and advocacy in international forums
These achievements were attained through initiatives in line with IWiM's vision of a global change of mindset for gender equality in mining. Engagement, influence, and collective dynamics all proved integral to IWiM's mandate, action, and impact.
"Going forward, IWiM will focus on leveraging the collective strength of women in mining to drive better recognition of women's outstanding contribution to mining and equal rights," commented IWiM Chair, Gillian Davidson.
"Our ambition to transform mining is shared worldwide by visionary men, women, and organisations across the mineral value chain: together we can realise new and unique opportunities for women, the mining sector, and the communities they invigorate and empower," she added.
Read the 2021 IWiM Impact Report here.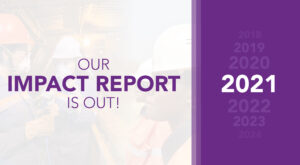 Learn more here: https://internationalwim.org/