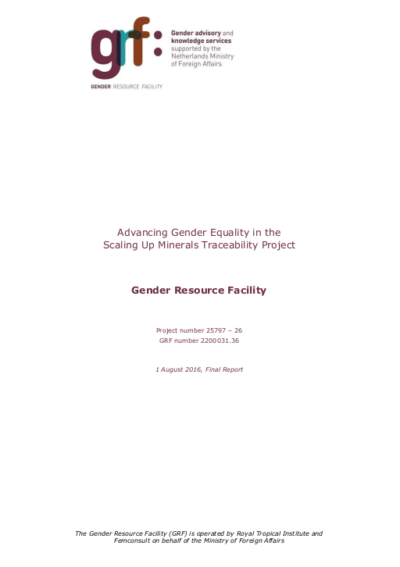 Executive Summary
The Government of the Netherlands (GoN) via the Ministry of Foreign Affairs (MFA) is currently supporting the NGO Pact in implementing the three-year Scaling up Minerals Traceability Project ("the Project") in the Great Lakes Region (GLR) of Africa and has requested assistance from the Gender Resource Facility (GRF) to ensure the Project sufficiently accounts for gender and enhances
its contributions to gender equality. Phase One of this assignment involved a comprehensive desk study of the "Gender Dimensions of 3T Mining in the Great Lakes Region". This work provided a basis for field activities undertaken in Phase Two, which primarily aimed to:
(i) Inform practical recommendations and strategies to increase gender responsiveness of the Project with respect to livelihood security and women's empowerment; and
(ii) Contribute to knowledge development, primarily by supplementing findings, conclusions and recommendations outlined in the Phase One desk study.
This report details the findings, conclusions and recommendations derived from Phase Two. Work involved mine site assessments, consultations, interviews and focus groups carried out in May and
June, 2016. In collaboration with Pact counterparts, three mining areas in each of Rwanda (Habatu Mine, H&B Mine, Gifurwe Mine) and DRC (Katogota Mine, Nyabibwe and Rubaya) were assessed. Consultative meetings held with a broad spectrum of stakeholders in Kigali, Entebbe, Goma and Bukavu further informed findings and resulting stakeholder map.