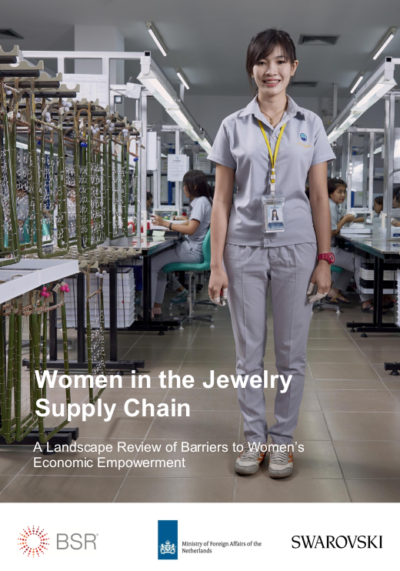 Report year:2018
Report author: Ouida Chichester, Jessica Davis Pluess, and Hetal Momaya, with input from Aditi Mohapatra
This paper explores the role of women in jewelry supply chains and the challenges they face to their wellbeing and advancement. This white paper has been prepared for a convening in April 2018 that will bring together key stakeholders in the jewelry value chain, from mining companies and manufacturers to retailers and brands, to explore how the jewelry industry can be a positive driver of women's empowerment and gender equality.

This study is exploratory in nature and draws upon publicly available literature and more than 50 semi-structured interviews with representatives from large jewelry manufacturers and retailers, mining companies, individual jewelers and entrepreneurs, industry associations, and civil society actors. It is not an exhaustive review of all of the ways in which the jewelry industry impacts women and does not offer recommendations, but rather provides emerging perspectives, analysis, and observations designed to stimulate dialogue and inform ongoing debate.