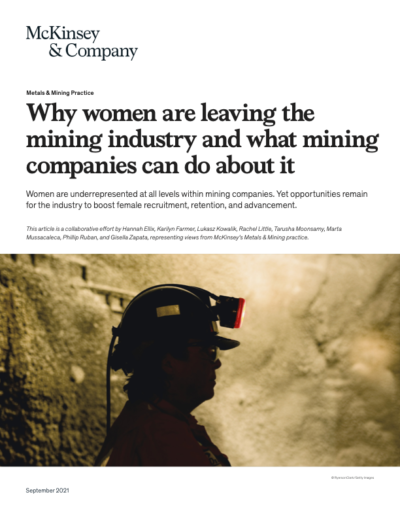 Report year:2021
Report author: Hannah Ellix, Karilyn Farmer, Lukasz Kowalik, Rachel Little, Tarusha Moonsamy, Marta Mussacaleca, Phillip Ruban, and Gisella Zapata
Organisation: McKinsey's Metals & Mining practice
Women represent an estimated 8 to 17 percent of the global mining workforce. In addition to low labor force participation, the drop-off from entry level to executive for females in mining is among the most dramatic across all industries we studied (Exhibit 1). Breaking down the sector in terms of senior leadership roles, we see that mining is a laggard among laggards: female representation within mining company C-suites sits at 13 percent. Among S&P 500 companies, there are only 30 female CEOs—not one of them comes from mining.