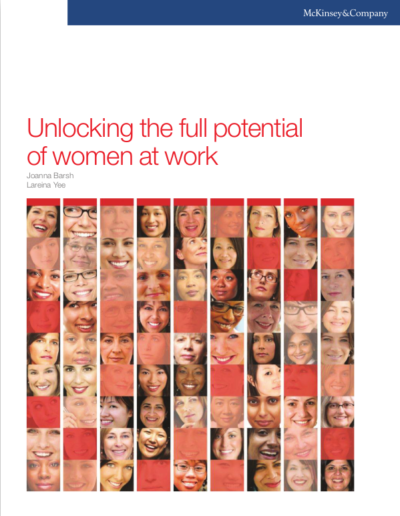 Report year:2012
Report author: Joanna Barsh, Lareina Yee
Organisation: McKinsey
Corporate America's business case for developing, retaining, and advancing women is strong and continues to get better. Leaders make gender diversity a priority because they see the prize: a talent advantage that's hard to replicate. But few companies are winning that prize. The top circles of leadership remain male bastions; women make up just 14 percent of Fortune 500 executive committees, and there are few women CEOs. Although corporate leaders are working hard to change this, progress remains elusive.

But below the surface there is good news: several companies are bucking the trend and women are advancing. Based on an in-depth investigation of 60 leading companies, our research reveals that many organizations are closer to unlocking the full potential of women at work than the aggregate numbers indicate. A few are well ahead, with senior leaders building a more open, accepting, and inspiring leadership culture. Diversity of thought thrives in such places, fueling creativity and innovation. Women, men, and their companies benefit as more talent rises to the top.

Last year, McKinsey & Company served as research partner to The Wall Street Journal's Executive Task Force for Women in the Economy. Our message was straightforward: women have fueled the growth of the US economy and its largest corporations. Furthermore, much evidence supports the business case for gender diversity—in a nutshell, diverse leadership generates stronger business results. We argued that leaders should focus on their middle managers, creating opportunities that would encourage women to accelerate their professional growth on a course to the top, overcoming barriers that companies, and women themselves, put in the way.

This year, we undertook a more ambitious US-based research project with the help of 60 corporations, almost all in the Fortune 500 or of similar size. See Exhibit 1 for a list of participating companies that agreed to be named.