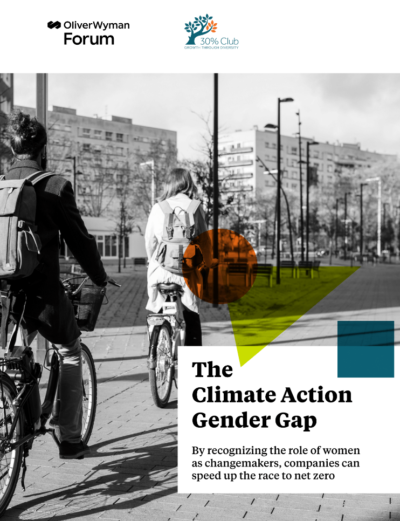 Report year:2021
Report author: Rupal Kantaria, Elizabeth Hoyler, Ann Cairns, Simon Glynn, Julia Hobart, David Knipe, David Mayer, Roianne Nedd, Jenny Tsim
Organisation: The Oliver Wyman Forum
Diversity and climate are top priorities for chief executive officers and boards of directors, but almost none have considered how linking the two management priorities could accelerate their transition to net‑zero emissions.

As research and interviews with more than 20 companies progressed, it became
clear that not only are women often excluded from many high-level government and corporate discussions on climate, their role as climate-action changemakers is largely unrecognized and underestimated. Yet businesses need to include female colleagues, customers, and investors if they are serious about meeting net-zero carbon emissions by 2050.