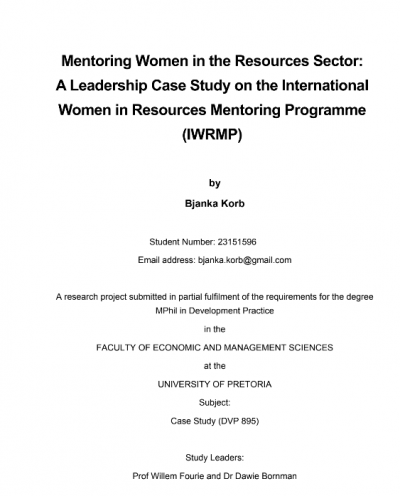 Report year:2019
Report author: Bjanka Korb
Organisation: FACULTY OF ECONOMIC AND MANAGEMENT SCIENCES at the UNIVERSITY OF PRETORIA
This research project explores leadership and gender equality in the mining sector. Several initiatives have been established to encourage women's participation in the mining sector, by creating an empowering, enabling environment for women in the sector. The International Women in Resources Mentoring Programme (IWRMP) is
one such initiative that provides mentoring for women in the resources sector; across continents and cultures. The leadership endeavour that led to the adoption of the IWRMP by the researcher's organisation, SRK Consulting, is the subject of this study.