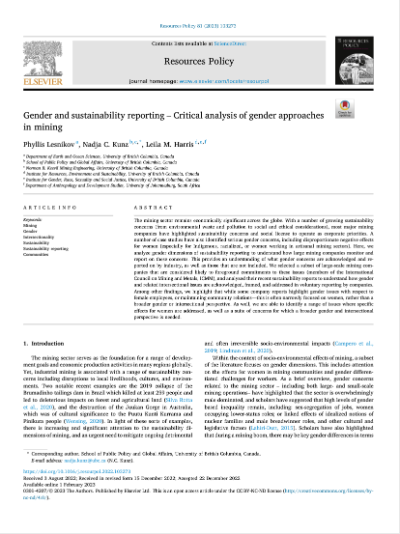 Report year:2023
Report author: Phyllis Lesnikov, Nadja C. Kunz and Leila M. Harris
Organisation: Science Direct Journals
The mining sector remains economically significant across the globe. With a number of growing sustainability concerns (from environmental waste and pollution to social and ethical considerations), most major mining companies have highlighted sustainability concerns and social license to operate as corporate priorities. A number of case studies have also identified serious gender concerns, including disproportionate negative effects for women (especially for Indigenous, racialized, or women working in artisanal mining sectors). Here, we analyze gender dimensions of sustainability reporting to understand how large mining companies monitor and report on these concerns.

Women serve as Heads of State and/or Government in only 31 countries. Women make up 26.5 per cent of Members of Parliament. Globally, less than one in four Cabinet Ministers is a woman (22.8 per cent). New data show that women lead important human rights, gender equality, and social protection policy portfolios, while men dominate policy areas like defence and economy.