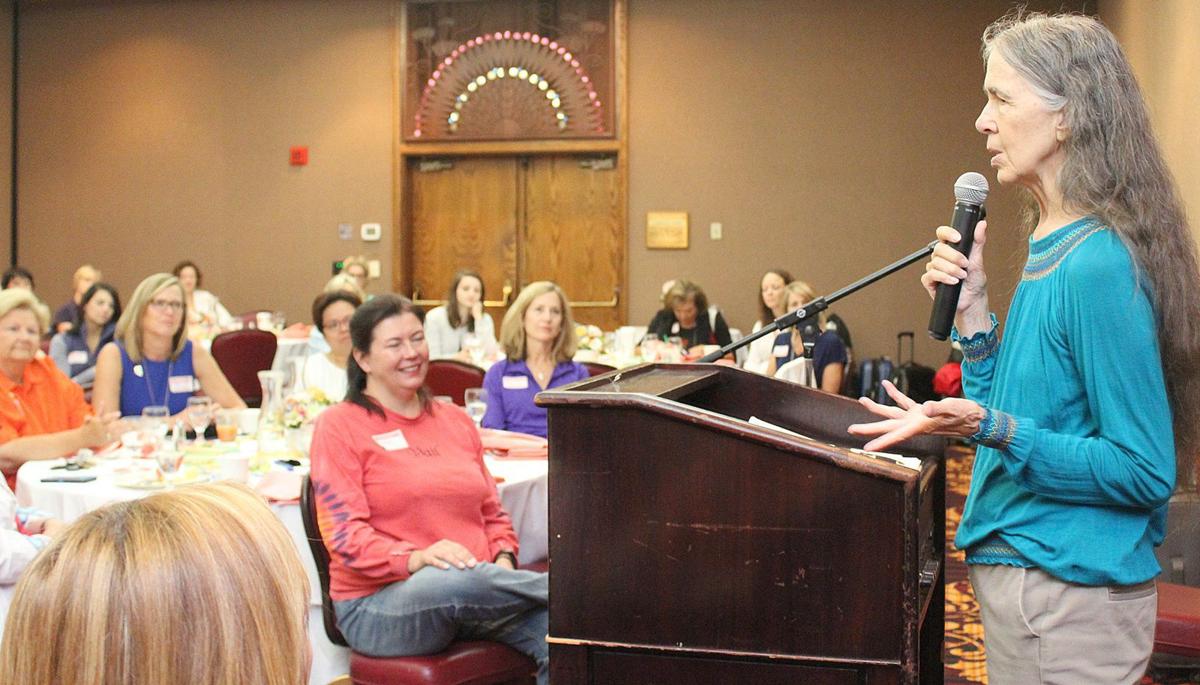 Women from all over the state visited Elko in August to tour local mines and hear from Betty Gibbs, who has been in the industry for 50 years and is the executive director of the Mining and Metallurgical Society of America.
The event was hosted by the Nevada Mining Association, Newmont Mining Corp. and the Nevada Chapter of the International Women's Forum.
Nevada Mining Association President Dana Bennett said Aug. 16 during a breakfast at the Red Lion that this was a historic event because she couldn't think of anytime when a mine tour consisted of only women.
"Certainly not a tour that brings together business leaders and community leaders from Reno and Las Vegas and Northern Nevada," she said. "I really think this has been a truly historic event."
Bennett introduced the speaker for the breakfast by giving a history lesson on women's interactions with the mining industry.
"Women are a small part of the industry," she said. "It runs about 11 percent and in certain occupations like truck driver, it's not very high at all, it's 10 percent or less."
She said the association is trying "to shine a light" on how few women are in the industry. It is working on some surveys to better understand women in mining and women's perception of mining.
Bennett said mining companies are taking diversity in the workforce seriously.
"It's very much on everyone's mind," she said. "To be sustainable in terms of economics, environment, community, everyone has to be involved. It can't be just one group of people who's doing that work."
Bennett said Gibbs was at the forefront of diversification in the mining industry before it was acceptable. Bennett said her husband worked in an underground mine in the 1980s and if a woman was on a tour, the older male employees would put their tools down and leave the mine.
Bennett said the association wanted a guest speaker who could talk about how the mining industry has changed through the years.
Gibbs is a mining engineer and has developed some of the cutting-edge technology. She was a professor at the Colorado School of Mines.
Gibbs also was chosen, by Women in Mining in the UK, as one of the Top 100 Global Inspirational Women in Mining.
Gibbs grew up in Virginia in the 1950s and the opportunities for women were to be a housewife, secretary or teacher, and she didn't want to do any of those.
When she decided to go to school for engineering, Gibbs said she was told she wouldn't get a job in the mining industry unless it was as the secretary to a mining executive.
"I didn't really say anything, because that was not what my vision of my future was," she said.
Fortunately she didn't listen to the naysayers. Her first job was working in exploration and she built a computer database from the exploration data. Eventually Gibbs was hired at a mine in the 1960s, and she became the first woman to work in the underground at the Climax molybdenum mine in Colorado.
She said there was discrimination in the mine, but she wasn't aware of it at the time. She said her attitude helped her avoid any discrimination.
"I just kind of paid attention to let's do the work, this needs to be done, let's do it," Gibbs said.
She said some of the biggest changes in the industry included the use of computers and attitudes about reclamation.
Gibbs said she enjoyed learning about computers because they did "all the tedious work."
Attitudes in the industry about environmental concerns changed drastically over the decades. Gibbs said in the 1960 and early '70s companies thought of reclamation as an added expense, but today miners are "enthusiastic" about cleaning up sites and being environmental stewards.
The event and how it came about
The Nevada Mining Association has more than 400 companies as members, Bennett said. Many of the women in attendance worked for companies that are association members.
One of those members, El Dorado Resorts, was represented by Kara Player.
She traveled from Reno to the event. Player said she has been on mine tours before, but she always enjoys going.
"As a vendor member we love the association," Player said.
She said many mining association members go through Salt Lake City or Reno and many meetings have been in the hotel.
Besides business women, many of the attendees represented government offices or were current or former elected officials.
Lena Walther, from the Swedish Honorary Consulate in Las Vegas, said she didn't realize how much mining impacts modern life. She enjoyed seeing the Phoenix Mine Aug. 15 and said, the morning of Aug. 16, that she was looking forward to seeing an underground mine. Newmont set up tours of Leeville and Exodus.
Bennett said the event came to fruition after she joined the International Women's Forum's Nevada chapter.
"The very first meeting I went to, one of the women said 'you know, you really should do a mine tour,'" she said. "I thought, what a fabulous opportunity to bring women from Las Vegas and Reno who — even some of the women from Reno have never been east of Fernley – so to show them this part of the state and to facilitate that conversation with miners so they can ask questions about the industry. It was just an opportunity that we couldn't resist.
She said Cecile Thaxter being the general manager out at the Phoenix mine was a "natural partnership" for the event.
"It's just been fastastic," Bennett said.