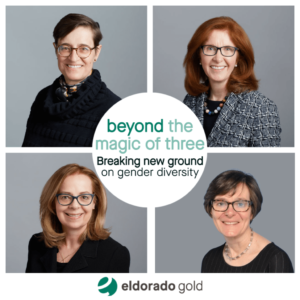 We are delighted that our Corporate Partner Eldorado Gold has reached gender parity on their board!
Meet the team of women who are not only Directors but also Committee Chairs at Eldorado Gold, leading and guiding the company in technical, governance, compensation, audit and sustainability practices.
Pam Gibson
Pam Gibson is an accomplished lawyer, having over 30 years of experience, primarily as a corporate lawyer in the mining and energy sectors at Shearman & Sterling LLP.
Teresa Conway
Teresa Conway joined the Eldorado Gold Board, bringing a wealth of experience in energy marketing and trading as the former CEO of Powerex, which came after an impressive accounting career.
Catherine Farro