This week in South Africa women in mining are congregating at  3-day conference which started on Wednesday and finishes today. Razia Adam our profile of the month of February attended.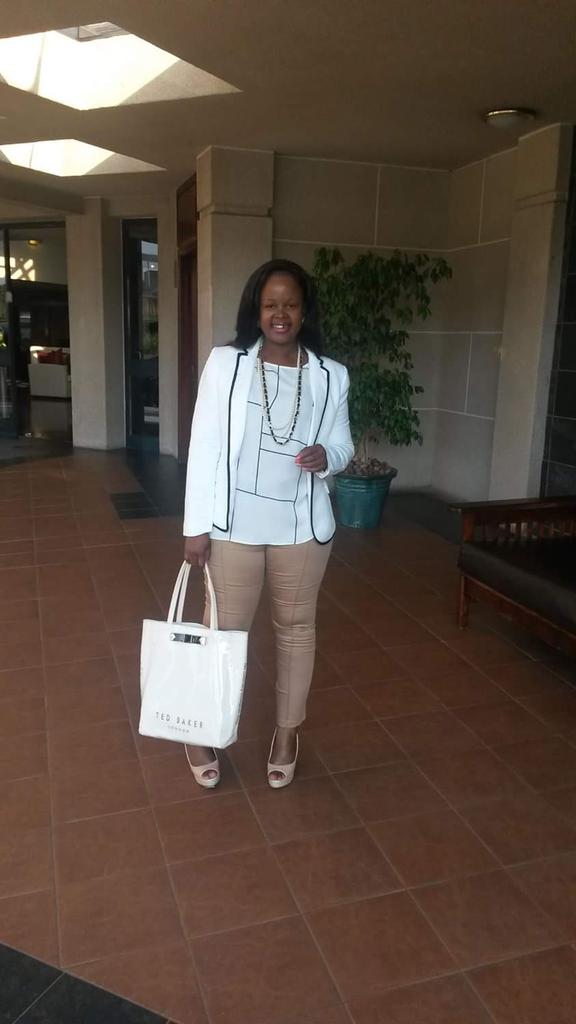 Nompumelelo 'Mpumi' Zikalala, Senior Vice-President at De Beers & Board Director spoke this week at the 6th Annual Women in Mining Conference in South Africa. Link to her presentation. Mpumi said in her presentation that education is key and that technical knowledge will gain you respect. She is featuring in an article in the South African press today. Read it here
Bongi Ntsoelengoe of Kumba Iron Ore, on the podium shared what motivated her to enter the mining industry.
Marietjie Lancaster, Senior Manager of Human Capital at Sibanye Gold discussed gender discrimination.
Futhi Zikalala, CEO of State Diamond Trader discussed measures to prevent insubordination in the workplace.
AngloGold's Italia Boninelli, said that it is critical to have board & management support successful advancement of women
Noleen Pauls, Chair of WIMSA (Women in Mining South Africa) shared results from their survey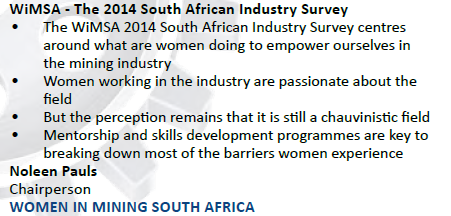 Conference topics for this year were:
Building your career within the mining sector
Getting women into critical executive positions – what does it take?
Investing in the education of young women who are passionate about the mining industry
Undergoing organisational transformation to accommodate women in mining at the top
Employing more women for the benefit of the organisation and not just for increasing quotas
Fighting the different levels of gender, race and disability discrimination
Moving away from a mindset that regards women as bad luck or a hazard in mining
Handling pregnancy in mining exploration
WIMSA 2014 South African Survey
Presenters/Speakers:
Dr Patricia Makhesha
Managing Director
PLATREEF RESOURCES
Futhi Zikalala
CEO
STATE DIAMOND TRADER
Italia Boninelli
Executive Vice President: People & Organisational Development
ANGLOGOLD ASHANTI
Noleen Pauls
Chairperson
WOMEN IN MINING SOUTH AFRICA
Carol  Hunter
Rock Engineer
LONMIN PLATINUM
Nompumelelo Zikalala
Director: DBS Consolidated Mines/ Senior Vice President
DE BEERS SIGHTHOLDERSALES
SOUTH AFRICA (DSSSA)
Marietjie Lancaster
Senior Manager Human Capital
SIBANYE GOLD
Nandi Kameru
Geoscientist
RIO TINTO MINING AND EXPLORATION
Diksha Somai
Chemical Engineer
EXXARO RESOURCES LTD
 Natascha Viljoen
Group Head Processing
ANGLO AMERICAN
Nokuzola Moemise
Quality Assurance Superintendent
PETRA DIAMONDS
Patricia Gamede
DDG: Corporate Services
DEPARTMENT OF MINERAL RESOURCES
Khetiwe McClain
Lead Independent Director
VILLAGE MAIN REEF MINE
Lelanie Prinsloo
Rock Engineering Manager
OPTIMUM COMPLEX
Jolandie Rust
ADVENTURER
Tumisho Masha
ACTOR/PUBLIC SPEAKER