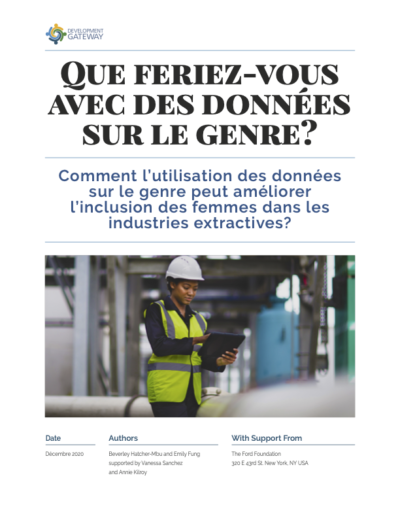 Report year:2020
Report author: Beverley Hatcher-Mbu and Emily Fung supported by Vanessa Sanchez and Annie Kilroy
Organisation: Development Gateway, Inc.
L'objectif de ce document est de confirmer que l'utilisation des données sur le genre peut améliorer l'inclusion, l'engagement et le soutien aux femmes dans les industries extractives (IE). Nous définirons, dans un premier temps, ce que nous entendons par les données sur le genre. Nous parcourrons ensuite les modifications récentes apportées à la norme de l'Initiative pour la Transparence des Industries Extractives (ITIE), avant d'identifier les domaines dans lesquels elle pourrait renforcer la participation des femmes dans le secteur.