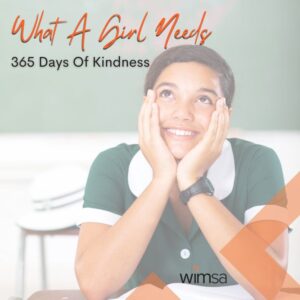 Did you know that girls have a difficult time going to school when they menstruate? Girls are missing school because they can't afford sanitary pads. It may seem like a simple solution, but it's not.
Girls are forced to use unhygienic materials when they lack pads. No access to sanitary products is not only awful for their health but also their education.
𝗪𝗼𝗿𝗹𝗱 𝗞𝗶𝗻𝗱𝗻𝗲𝘀𝘀 𝗗𝗮𝘆 𝗶𝘀 𝗼𝗻 𝟭𝟯 𝗡𝗼𝘃𝗲𝗺𝗯𝗲𝗿. 𝗕𝘂𝘁 𝘄𝗵𝘆 𝘀𝗵𝗼𝘂𝗹𝗱 𝗶𝘁 𝗯𝗲 𝗹𝗶𝗺𝗶𝘁𝗲𝗱 𝘁𝗼 𝗷𝘂𝘀𝘁 𝗼𝗻𝗲 𝗱𝗮𝘆?
In this spirit, we are launching our "𝗪𝗵𝗮𝘁 𝗔 𝗚𝗶𝗿𝗹 𝗡𝗲𝗲𝗱𝘀 – 𝟯𝟲𝟱 𝗗𝗮𝘆𝘀 𝗼𝗳 𝗞𝗶𝗻𝗱𝗻𝗲𝘀𝘀" campaign to help do our part in assisting with putting an end to 𝗺𝗲𝗻𝘀𝘁𝗿𝘂𝗮𝗹 𝗽𝗼𝘃𝗲𝗿𝘁𝘆. We're launching our initiative to provide 𝗣𝗮𝗹𝗲𝘀𝗮 𝗿𝗲𝘂𝘀𝗮𝗯𝗹𝗲 𝘀𝗮𝗻𝗶𝘁𝗮𝗿𝘆 𝗽𝗮𝗱𝘀 𝗳𝗼𝗿 𝟯𝟲𝟱 𝗴𝗶𝗿𝗹𝘀 𝗮𝘀 𝗽𝗮𝗿𝘁 𝗼𝗳 𝘁𝗵𝗶𝘀 𝗰𝗮𝗺𝗽𝗮𝗶𝗴𝗻. The great thing about these pads is that they are reusable and last for up to 5 years!
Our 𝗴𝗼𝗮𝗹 is to raise enough funds to ensure that at least 𝟯𝟲𝟱 𝗴𝗶𝗿𝗹𝘀 can continue with their regular schooling and daily routines for the next five years during their menstrual cycle – because we all deserve the same chances in life.
The cost to help 𝗼𝗻𝗲 𝗴𝗶𝗿𝗹 𝗳𝗼𝗿 𝗳𝗶𝘃𝗲 𝘆𝗲𝗮𝗿𝘀 𝗶𝘀 𝗥𝟮𝟴𝟵.
𝘛𝘩𝘪𝘴 𝟧-𝘺𝘦𝘢𝘳 𝘴𝘶𝘱𝘱𝘰𝘳𝘵 𝘧𝘰𝘳 𝘰𝘯𝘦 𝘨𝘪𝘳𝘭 𝘤𝘰𝘴𝘵𝘴 𝘺𝘰𝘶 𝘭𝘦𝘴𝘴 𝘵𝘩𝘢𝘯 𝘵𝘦𝘯 𝘤𝘢𝘱𝘱𝘶𝘤𝘤𝘪𝘯𝘰𝘴 𝘱𝘦𝘳 𝘮𝘰𝘯𝘵𝘩. 𝘛𝘩𝘢𝘵'𝘴 𝘢𝘣𝘰𝘶𝘵 𝘵𝘩𝘦 𝘤𝘰𝘴𝘵 𝘰𝘧 𝘢 𝘨𝘰𝘰𝘥 𝘣𝘰𝘵𝘵𝘭𝘦 𝘰𝘧 𝘸𝘪𝘯𝘦 𝘰𝘳 𝘵𝘸𝘰. 𝘐𝘵'𝘴 𝘭𝘦𝘴𝘴 𝘵𝘩𝘢𝘯 𝘵𝘩𝘦 𝘤𝘰𝘴𝘵 𝘰𝘧 𝘢 𝘯𝘪𝘨𝘩𝘵 𝘰𝘶𝘵 𝘸𝘪𝘵𝘩 𝘧𝘳𝘪𝘦𝘯𝘥𝘴.
Let's show our kindness not only on #𝗪𝗼𝗿𝗹𝗱𝗞𝗶𝗻𝗱𝗻𝗲𝘀𝘀𝗗𝗮𝘆 and help us to give the support that these girls so desperately need. 𝗔 𝗴𝗶𝗿𝗹'𝘀 𝗲𝗱𝘂𝗰𝗮𝘁𝗶𝗼𝗻 𝗶𝘀 𝘄𝗼𝗿𝘁𝗵 𝟯𝟲𝟱 𝗱𝗮𝘆𝘀 𝗼𝗳 𝗺𝗲𝗻𝘀𝘁𝗿𝘂𝗮𝗹 𝗵𝘆𝗴𝗶𝗲𝗻𝗲.
𝘛𝘰 𝘮𝘢𝘬𝘦 𝘪𝘵 𝘦𝘢𝘴𝘺 𝘧𝘰𝘳 𝘺𝘰𝘶 𝘵𝘰 𝘥𝘰𝘯𝘢𝘵𝘦 𝘵𝘰 𝘵𝘩𝘪𝘴 𝘸𝘰𝘳𝘵𝘩𝘺 𝘤𝘢𝘮𝘱𝘢𝘪𝘨𝘯, 𝘱𝘭𝘦𝘢𝘴𝘦 𝘶𝘴𝘦 𝘵𝘩𝘪𝘴 𝘚𝘕𝘈𝘗𝘚𝘊𝘈𝘕 𝘤𝘰𝘥𝘦 𝘴𝘰 𝘸𝘦 𝘤𝘢𝘯 𝘬𝘦𝘦𝘱 𝘵𝘳𝘢𝘤𝘬 𝘰𝘧 𝘺𝘰𝘶𝘳 𝘤𝘰𝘯𝘵𝘳𝘪𝘣𝘶𝘵𝘪𝘰𝘯𝘴. 𝘈𝘵 𝘵𝘩𝘦 𝘣𝘦𝘨𝘪𝘯𝘯𝘪𝘯𝘨 𝘰𝘧 𝘋𝘦𝘤𝘦𝘮𝘣𝘦𝘳, 𝘸𝘦 𝘸𝘪𝘭𝘭 𝘥𝘦𝘵𝘦𝘳𝘮𝘪𝘯𝘦 𝘩𝘰𝘸 𝘮𝘢𝘯𝘺 𝘥𝘰𝘯𝘢𝘵𝘪𝘰𝘯𝘴 𝘸𝘦𝘳𝘦 𝘮𝘢𝘥𝘦 𝘵𝘰 𝘵𝘳𝘢𝘯𝘴𝘧𝘦𝘳 𝘵𝘩𝘦 𝘧𝘶𝘯𝘥𝘴 𝘵𝘰 𝘗𝘢𝘭𝘦𝘴𝘢 𝘗𝘢𝘥𝘴. 𝘐𝘧 𝘺𝘰𝘶 𝘸𝘰𝘶𝘭𝘥 𝘱𝘳𝘦𝘧𝘦𝘳 𝘵𝘰 𝘥𝘰 𝘢𝘯 𝘌𝘍𝘛, 𝘣𝘢𝘯𝘬𝘪𝘯𝘨 𝘥𝘦𝘵𝘢𝘪𝘭𝘴 𝘢𝘳𝘦 𝘢𝘭𝘴𝘰 𝘢𝘷𝘢𝘪𝘭𝘢𝘣𝘭𝘦. 𝘗𝘭𝘦𝘢𝘴𝘦 𝘴𝘦𝘦 𝘵𝘩𝘦 𝘭𝘪𝘯𝘬 𝘣𝘦𝘭𝘰𝘸 𝘵𝘰 𝘵𝘩𝘦 𝘘𝘙 𝘤𝘰𝘥𝘦 𝘢𝘯𝘥 𝘣𝘢𝘯𝘬𝘪𝘯𝘨 𝘥𝘦𝘵𝘢𝘪𝘭𝘴.