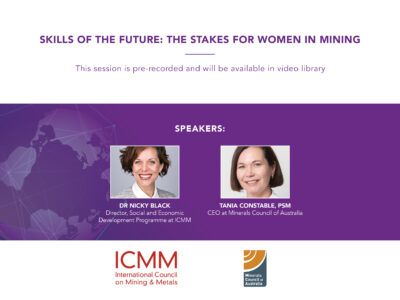 Leading industry organisations represented in this panel discuss how mining features in global trends for the evolution of the skills necessary to sustain growth and innovation, highlighting how women can prepare for the changing nature of work and contribute to the transformation of mining.
Each speaker presents their organisation's ambitions for the sector and its workforce. These hinge on a combination of innovation, people and skills to deliver a more globally competitive minerals sector. Education, training and workforce development are crucial to ensure a sustainable supply of skilled labour that enables mining to play a key role in strengthening social and economic resilience in local communities, and the promotion of diversity and inclusion.
The stakes are high for the mining sector and the opportunity for women is significant, with workforce shortages and increased societal expectations: the panellists discuss how forward-looking organisations are already addressing, and sometimes leading, this evolution.