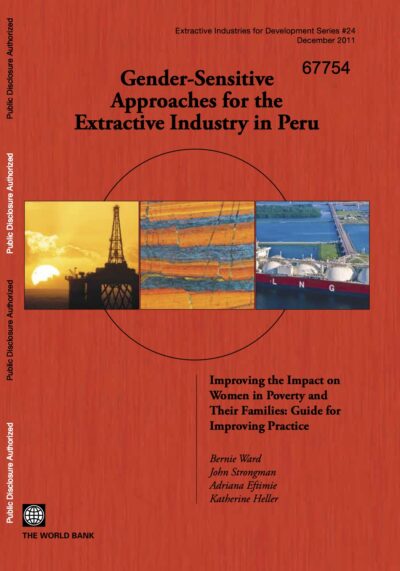 Report year:2011
Report author: Bernie Ward, John Strongman, Adriana Eftimie, & Katherine Heller
Organisation: The World Bank
This book presents the results of the study 'New Approaches for Improving the Development Outcomes of the Extractive Industry in Peru: Improving Impacts on Women in Poverty and Their Families.' In recent years, large amounts of 'development assistance' in the form of infrastructure and social programs have been made available to communities across Peru as a result of the presence of extractive industry (EI) companies. These funds have come through corporate-managed social programs; royalties; the tax on EI profits, which is redistributed through the various canons; trust funds; and the voluntary contribution, which was recently introduced. With increasing extractive industry presence, and a decreasing supply of international cooperation aid to Peru, 2 as of 2006, funds from the mining canon alone outstripped international cooperation aid to Peru. While recent commodities fluctuations have reduced company profits, and therefore taxes, canon, and voluntary contributions by companies, these payments are still very significant and are greater than international cooperation aid. Although it is hard in the current international economic climate to make clear projections, funding resources originating from mining in Peru will continue to be key to the development of the poorer communities surrounding the mining operations. One important way in which EI companies and local governments responsible for administering the oil, gas, and mining canons could significantly improve their development outcomes would be to make sure that their development assistance approaches have a stronger influence on women-particularly women from poorer families, who are the least likely to be able to take advantage of the employment opportunities and other benefits offered by the company's presence.