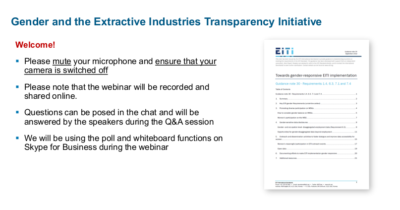 Report year:2020
Report author: Lisa Stellner, Sophie Rickard, Stephanie Rochford
This webinar is an opportunity for members of EITI Multi-Stakeholder Groups, national secretariats and supporting partner institutions, to come together and devise practical steps toward gender responsive implementation of the Extractive Industries Transparency Initiative.

The latest EITI Standard, launched in June 2019 in Paris, contains new requirements on the environment, gender and commodity trading. The new EITI standard considers gender in three main areas: gender balance and meaningful participation in MSGs; gender-sensitive EITI disclosures; and inclusive outreach and dissemination activities. To support MSGs and national secretariats in implementing these requirements, the EITI developed guidance note 30: Towards gender-responsive EITI implementation
Webinar slides (pdf).