WiMSA Entrepreneur Masterclass
Local procurement of goods and services by mining companies has tremendous development potential for countries in Sub-Saharan Africa and elsewhere. In host countries, purchasing of local goods and services by mining companies creates local jobs, promotes skills and technology transfers, and integrates local companies into global value chains.
Why are so many companies struggling to access local procurement opportunities? Lets dispel the myths, state the facts and assist SMEs to access mining procurement opportunities.
Presented by:

  The Business Doctor Keitumetse Lekaba | Head: Enterprise and Supplier Development | I AM AN ENTREPRENEUR

Date:

  Thursday 27 May 2021 | 6:30pm – 8:00pm

Location:

  Zoom Online

Registration:

  Please click on the link below to register
https://zoom.us/meeting/register/tJcsceGhrT8rEtYWKcTcyU0WIInlJCY3euqa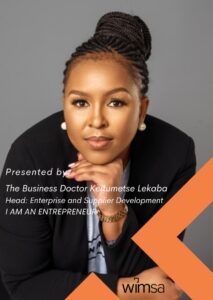 Keitumetse Lekaba
Head of Enterprise & Supplier Development: I AM AN ENTREPRENEUR
Bio
Keitumetse Lekaba is the Head of Enterprise and Supplier Development (ESD) at I AM AN ENTREPRENEUR. In her current role, she leads the strategy, development and implementation of Enterprise and Supplier Development (ESD) Programmes.
Prior to joining I AM AN ENTREPRENEUR, she worked for Tysys Capital, Sage Accounting, Siyakha Consulting, Nolands JHB, and Horwath Leveton Boner. She has over 15 years of experience in Finance, Accounting, Auditing, Tax, SME Funding, SME Development, Business Coaching, and SMME Strategy Development. She has implemented ESD Programmes for companies such as Exxaro Mining, Harmony Gold, Sasol, Coca-Cola Beverages South Africa, Reckitt Benckiser, Barloworld and many more.
Keitumetse holds a B.Com Accounting Degree from the University of Johannesburg, with an Honours specialising in Tax. She is a Co-Founder of Mediwell Medical Centre in Dainfern, as well as the founder of Karabo Business Solutions.
Outside of Finance and SME Development, she is the Founder and Chairperson of Goddess Girls, an NGO facilitating girl child mentorship in Soweto.
Keitumetse has a passion for human and business development, business coaching and sustainability of SMEs. She is an exceptional leader, with charisma and extensive knowledge in her field.