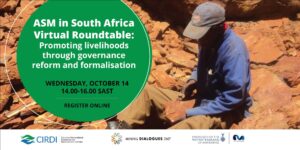 Dear Colleagues,
We are pleased to invite you to attend the upcoming virtual roundtable discussion "Artisanal and Small-Scale Mining in South Africa: Promoting Livelihoods through Governance Reform and Formalization" taking place on October 14 between 14:00 – 16.00 SAST. The event is organized by the UBC's Canadian International Resources and Development Institute (CIRDI) in collaboration with Mining Dialogues 360° (MD360°) and the Wits Mining Institute, and will feature a group of prominent ASM sector experts from South Africa and Canada.
A recent assessment of the South African ASM sector, produced by CIRDI in partnership with MD360°, revealed that while artisanal and small-scale mining (ASM) is widely recognized as a potential pathway for development, fully leveraging the value of this sector in South Africa in an equitable and sustainable way, will require policy and regulatory reform. It also highlighted the dearth of data describing the sector and how this constrains the development of common understanding amongst stakeholders of what the current realities in the South African ASM sector are. Potentially, the observed knowledge gaps and the lack of a common evidence base accessible to all stakeholders may frustrate the policy reform process that the Department of Mineral Resources and Energy has recently embarked upon with "prior consultation" workshops currently being held ahead of the release of a draft ASM policy.
The event will focus on disseminating the results of the CIRDI/ MD360° assessment, making a case for further research to address knowledge gaps, and exploring what might constitute an appropriate set of policy objectives for ASM development. It will also explore whether there is a need for a further structured process of multi-stakeholder dialogue to enhance policy and legislative reform and the process of formalization of the ASM sector.
Please note, the webinar doesn't require the attendees to use their camera or microphone, while there will be an opportunity to post questions and comments to the Q&A chat.