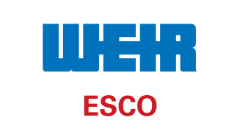 Weir ESCO designs, manufactures and services mission-critical equipment used by companies in mining and infrastructure markets. With more than 100 years of experience in the science of wear materials, ESCO is recognized as an industry leader delivering innovative products and custom-engineered solutions that enhance customer safety and productivity. Our global sales and support footprint enables availability and service in all key markets.
As part of the global Weir family, you will find yourself working in a stimulating culture that inspires new thinking. We embrace and promote diverse, innovative opportunities that enable our teams to grow and succeed. Together, we are unique, global champions in the mining industry.
Opportunities at Weir's ESCO division are immersive, impactful and rewarding. If you are looking to jump start your career or are searching for new opportunities to contribute to an innovative, growing leader in the mining industry, we want to meet you.
Visit our website: https://www.esco.weir/