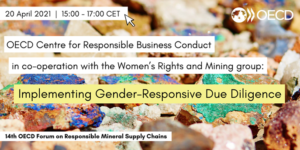 20 April, 15-17h
WRM's informs the efforts in the run up to the 2021 OECD Minerals Forum to be held on 27 and 28 of April.
WRM is organizing a pre-Forum discussion together with the OECD to explore impacts of formalization processes on women's rights, and dive into commitments to gender responsive due diligence as well as tools available to private sector, civil society and government actors. WRM will present the outcomes of the mini-suvery conducted among adherents to the WRM-OECD Stakeholder Statement. Rachel Perks from the World Bank will guide us through an interactive discussion with representatives from across the field; from local organizations to industry, governments and international organizations. With this session we aim to do what is fact the core of WRM: create a better understanding of the gender dimensions of mining and to create awareness and secure commitment to take action and uphold women's rights in mining and mineral supply chains. Register now!
Women's Rights and Mining is an collaborative effort of NGOs, researchers and government organisations to secure commitments from key stakeholders in the mining sector to address key gender concerns.
Visit: