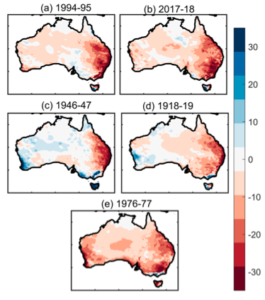 Please join us on 1st December at 2pm (AEDT – Sydney, Canberra, Melbourne time) for the first in the WOMEESA virtual seminar series. On the first Tuesday of each month a woman in Earth or Environmental science will present a seminar about their research and their career pathway. Our seminar series aims to both increase the visibility of women leaders in science and provide inspiring role models for emerging leaders. Seminars will be hosted on zoom and the details of the first seminar are below. All welcome (including non-members and men 🙂 ).
WOMEESA virtual seminar #1
Tuesday 1st December, 2pm (AEDT / Sydney time)
Dr. Ailie Gallant
Monash University
"From droughts to flooding rains: the connections between drought and extreme rainfall"  
Register here for zoom details
Biography: Dr Ailie Gallant is a Senior Lecturer and climate scientist in the School of Earth, Atmosphere and Environment at Monash University. Her work seeks to characterise and understand climate variability and change, primarily for the Australia and Southern Hemisphere regions. Most of her research relates to drought. She has developed estimates of pre-instrumental drought variability in the last 1000 years using palaeoclimate information, and has characterised changes to drought on the Australian continent. Her current research has an emphasis on examining the atmospheric processes that cause droughts and the processes that break droughts, including, counterintuitively, connections between drought and extreme rainfall.
The Women in Earth and Environmental Sciences Australasia Network (WOMEESA)