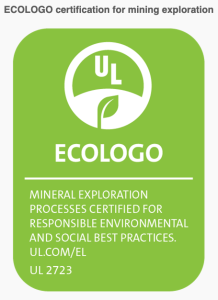 Join WIM Montréal for a luncheon panel discussion about ECOLOGO certification with Joanie Caron, Ph.D., Strategic Advisor – Responsible development certification, Quebec Mineral Exploration Association (QMEA), Alain Poirier, Project Director – QMEA and a panel of representatives from ECOLOGO-certified companies:
Sylvain Lortie, Director, Environment – Eldorado Gold Québec
Karole Gagnon, Communications and Industry Relations, SOQUEM
Serge Caron, Regional and Business Development Director, Rouillier Drilling
Thursday May 18, from 11:30 to 1:00pm at the offices of PwC 1250 boul. René-Lévesque ouest, Suite 2500, Montréal
Free event and lunch. Registration is required.