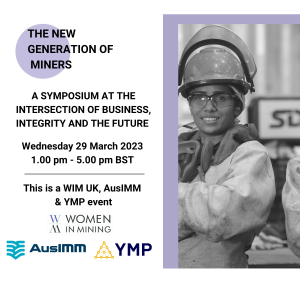 Please join WIM UK, YMP, and AusIMM on Wednesday 29 March for our symposium, "The New Generation of Miners – a Symposium at the Intersection of Business, Integrity and the Future ". The location of the symposium will be announced shortly.
The symposium will be followed by networking at the Kings Arms in Mayfair (2 Shepherd Market, London W1J 7QA).
The symposium will cover three areas of discussion:
Geology and New Business – Linking Exploration to Business Development
With every new cycle comes a wave of new mining companies, mostly with a portfolio of exploration-stage assets. During this panel, we will discuss with mining executives how exploration and business development are connected and geology techniques that have been developed to help make assets economic and attractive to investment.
Water and Tailings – Navigating Higher Scrutiny and New Standards
The Brumadinho tragedy, climate risk and increased scrutiny by the media and stakeholders, has led to the creation of (and commitment to) updated standards and disclosures, such as the Global Industry Standard on Tailings Management. During this panel, we will hear from experts in emerging technologies and disruptive processes for the management of water and tailings and what they are doing to improve sustainability and secure social license to operate.
Supply Chain, Social Impact and Circular Economies – The Next Frontier
Since Covid, supply chain management has been a headache for all industries, including mining. During this panel, we will discuss if things have gotten back to "normal", the role of supply chain due diligence, and how the supply chain is impacted by geopolitics, technology and the the goal of creating circular economy.
Please register here.