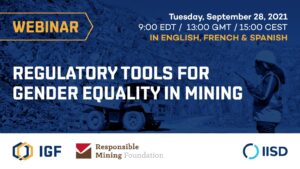 This webinar will present the results of recent research on company practices and government actions on gender equality in mining. Expert panelists will share experiences from government and industry and explore the following questions:
• What is the current status of gender-responsive action within the mining industry? What leading practices can be seen?
• What kinds of regulatory tools are being used to drive stronger action by mining companies? What are the challenges in developing and implementing these tools?
• How do mining companies respond to requirements and regulations on gender equality? What challenges do they face in addressing gender issues across their operations?
Sep 28, 2021 09:00 AM in Eastern Time (US and Canada)
Interprétation ANGLAIS / FRANÇAIS disponible
Interpretación INGLÉS / ESPAÑOL disponible