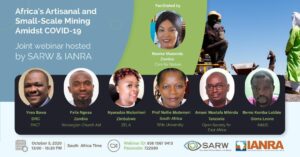 Dear Colleagues,
SARW and IANRA are organizing a joint webinar on Africa's Artisanal Mining Sector and ASM amidst Covid19 and are happy to invite you to attend.
The future of Africa's mining lies in artisanal and small-scale mining (ASM) with the sector generating employment for over 40 million people. ASM accounts for 20  of the global supply of gold and 80 percent of the global supply of sapphire and 20 percent of the global supply of diamond. ASM also generated 26 percent of global production of tantalum and 25 percent of tin, these are the essential minerals used in the manufacturing of computers and other electronic products. Despite the potential that lies within the ASM, governments across countries in Africa tends to give more focus and support to large-scale mining at the expense of the negative impact of mining operations on communities livelihoods and loss of revenues due to weak governance institutional capacity to collect taxes and royalties from corporations. Almost all the economic development policies are cantered around the large-scale mining as a driver for economic growth and development.
Join us on Friday 9th October at 13h00 (South Africa) as we discuss harnessing the ASM's potential for Africa's post-COVID-19 resource mobilisation for development.